Yarl's Wood immigration centre: Questions over need to detain women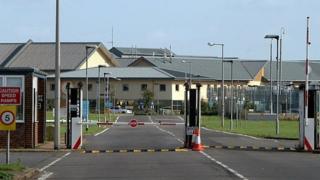 Two-thirds of women held at an immigration removal centre are later released into the community, a watchdog report has revealed.
Inspectors said the finding raised concerns about whether the women should have been detained at Yarl's Wood, Bedfordshire, in the first place.
The assessment was carried out by by HM Inspectorate of Prisons (HMIP) in June.
The Home Office said: "Detention and removal are essential parts of effective immigration controls."
A report on the inspection in June found during the previous six months, excluding men, 542 (21%) detainees had been removed from the centre, 295 (12%) had been transferred to other places of detention and 1,721 (67%) had been released.
Inspectors said the high percentage of women released "raised questions about the justification for detention in the first place".
Fewer detainees than at the previous inspection were being held for long periods, the watchdog noted.
None had been held for over a year, although 14 had been held for between six and 12 months.
The inspectorate also said the handling of cases by the Home Office was a "principal area of concern".
It found that delays and uncertainty in the outcome of immigration casework were still a cause of frustration and anxiety for detainees.
Progress welcomed
However, the report said there had been "significant improvements" at the centre, which is operated by Serco.
A Home Office spokeswoman said it took "the welfare of our detainees very seriously" and action was being taken to address the report's recommendations.
Serco, which is not responsible for determining policy on immigration detention or individual decisions regarding the length of detention, welcomed the recognition of progress made since the last inspection.
The facility near Bedford houses adult women and family groups, as well as a small number of men who arrived in Britain as "clandestine migrants" on freight lorries.