Understaffing blamed for violence at HMP Aylesbury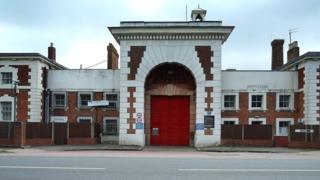 Serious understaffing at a young offenders' institution (YOI) has been blamed for an increase in violence.
The Independent Monitoring Board (IMB) said Aylesbury YOI had become a more violent place and the nature of injuries had worsened.
Its latest report listed 500 incidents of self-harm, 237 prisoner-on-prisoner assaults and 74 attacks on staff.
The prison service said it was hoping to "boost frontline staff" with a "targeted recruitment campaign".
'Seriously understaffed'
During its reporting period from July 2016 to June 2017, the IMB said there were more injuries caused by weapons, including cuts to faces and limbs.
The IMB could not provide figures of violence for the previous year,
Its report said: "The IMB is firmly of the opinion that this increase of violence is a direct result of the worsening staffing situation at Aylesbury.
"Throughout the reporting year, the prison has been seriously understaffed."
It said the budget allowed for 180 prison officers but only 160 were employed in June 2017, and found the average length of service for those who resigned was just 14 months. One had resigned after one week.
The IMB also said showers on on G Wing were a "disgrace", with peeling paint and mould.
'Determined to improve'
It also highlighted the lack of activities provided for prisoners.
It has called on the minister to provide improved pay and conditions for staff and extra resources so the unit can lay on more activities.
A prison service spokesperson said: "Aylesbury is determined to improve safety and allow offenders more time to engage in purposeful activity and education.
"To do this, a targeted recruitment campaign is underway to boost frontline staff and deliver more prison officers on the wings.
"While there is more to do, we are determined to build on these improvements with new education and training opportunities in the prison."