Dolly Parton's Jolene hit used in college funding plea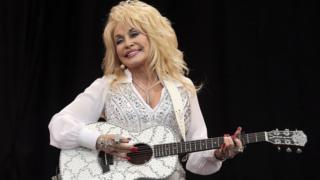 A college boss has channelled his "inner Dolly Parton" in a plea for more further education (FE) funding.
Ian Pryce, principal of Bedford College, recorded a version of Parton's song Jolene, changing the lyrics to Justine, and aiming it at the Education Secretary Justine Greening.
One line begs: "Justine, Justine, Justine, Justine, please don't hurt us just because you can."
The Department for Education has not yet commented on the song.
Mr Pryce recorded his version of the Country and Western classic to draw attention to what he considers to be an unfair funding deal for the further education sector.
One of the song's lines says: "Our funding, it does not compare with schools, it's really so unfair, if only you would show you care, Justine."
Mr Pryce, who was awarded a CBE for his work in education, released the song ahead of Tuesday's Association of Colleges' annual conference.
"The Association of Colleges has made an unanswerable case for a fairer deal for our students," Mr Pryce said.
"We are key to post-Brexit Britain, yet our funding is much lower than that of schools and universities."
Tweaking Dolly Parton's lyrics was "making a serious point in a humorous way," he said.
"We're hoping the secretary of state will be persuaded", he said.
To make sure, one of the song's lines reminds her: "You could get to Number 10, but then we might get Gove again... you're the only one for us, Justine."