Number of people caught driving while using mobile phone in Hertfordshire down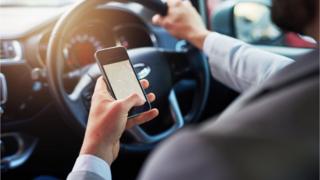 The number of people caught driving while using a mobile phone in Hertfordshire is down to a two-year low, according to latest figures.
A Freedom of Information request has shown that the number of drivers caught between September 2016 and August 2017 was 1,178.
This compares to 2,252 in the same period in 2014/15, and 1,440 in 2015/16.
New penalties for the offence were introduced in March 2017.
Since then, the number of penalty points you can incur for using a hand-held phone illegally behind the wheel has increased from three to six and a £200 fine.
You can also be taken to court, where you can be banned from driving or riding and get a maximum fine of £1,000 (£2,500 if you're driving a lorry or bus).
If you passed your driving test in the past two years, you would lose your licence.
From April to August 2017, the number of drivers reported for the offence was 311, compared to 569 for the same period in 2016. Pressure to prevent drivers using phones intensified last year in the wake of several high-profile cases as well as research indicating it was widespread.
In October, lorry driver Tomasz Kroker, who killed a mother and three children while distracted by his phone, was jailed for 10 years.