HMP Bedford: Lack of 'basic items' contributed to prison riot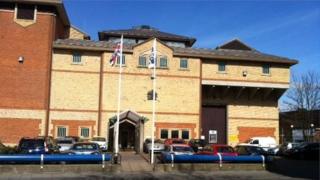 The inability of a prison to provide "basic items" such as pillows and toilet roll contributed to a riot, a report has said.
Prisoners at HMP Bedford were also locked up for up to 23 hours a day and were missing drug treatment courses.
The Independent Monitoring Board (IMB) said "clear improvements" had been made since the November 2016 disturbance but concerns remained.
The Ministry of Justice said it was "tackling the challenges head-on".
About 50 or 60 inmates were removed from the prison after some 150 prisoners were involved in a riot on 6 November.
The IMB report, which covers the period from July 2016 to June 2017, said factors leading to this included "chronic shortages of basic items" like toiletries and bedding, prisoners were missing medical appointments and only half of the prison's 110 officers were available.
Since then, violence and self-harm "seem to have reduced", "officer numbers have increased" and the prison "feels a much less tense and calmer place", inspectors concluded.
However, deaths in custody stand at almost one per 100 prisoners, seven times the national average and assaults on staff are more than double the national rate, the IMB said.
It also noted prisoner-on-prisoner violence was up 50%, up to half of prisoners were estimated to be taking illegal drugs and there was still a need to develop "a more rehabilitative culture".
The report recommends the prison service funds secures a part of the prison where drugs are known to be thrown onto the site and more should be done to reduce acts of self-harm and suicide.
'Considerable improvement'
IMB chair Kevin Whiteside said it had "been a very tough year" for the prison.
"Chronic understaffing was exacerbated by poor systems and a lack of clear strategies," he said.
"However there has been considerable improvement and at the end of June a half-full prison was operating reasonably well.
"The challenge is going to be sustaining that improvement as the prison fills up to its operational capacity of nearly 500."
A prison service spokesperson said improvements made include better arrangements to ensure a steady supply of basic kit, prison wing refurbishment, a strategy for the reduction and prevention of substance misuse and successful recruitment drives.