Met Police officer accused of rape 'did not take no for an answer'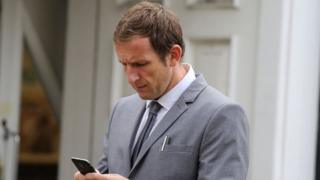 A Metropolitan Police officer accused of rape "did not take no for an answer", a court has heard.
Carl Blood, 37, from Luton in Bedfordshire, is alleged to have raped the woman on a first date.
He is also accused of sexually assaulting another woman on a late night train on 16 June 2016, six months after the alleged rape.
Mr Blood told Luton Crown Court both women consented. He denies rape and assault by penetration.
More on this story and others in Bedfordshire
The court was told the police sergeant had met the woman accusing him of rape on the Plenty of Fish dating website.
Following dinner on 25 January 2016, he persuaded her to go back to his Luton flat to watch a video in his bedroom, the jury was told.
In a pre-recorded police interview, she said: "He started to undress me and I said, 'This is not what I do on a first date'.
"I never gave him to believe I was consenting. He did not take no for an answer."
'Very passionate' kiss
Mr Blood told the court she was "absolutely fine" when her clothing was removed and "at no time did she say, 'No, I don't want sex, get off'".
Six months later, the officer sat down opposite the second woman on the 23:01 BST train from St Pancras, London, to Bedfordshire.
The woman told police they got chatting and when he kissed her, she "didn't brush him off".
The jury heard she woke up to find the officer sexually assaulting her and she told him: "I don't want this".
Mr Blood, who admitted he was "between tipsy and drunk" at the time, said he touched her during their "very passionate" kiss and not while she was asleep.
The trial continues.