Award for paramedics who saved man's life on M1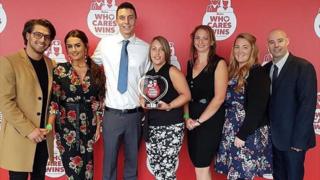 Four paramedics have won an award for bravery after they risked their own lives to rescue a man from a burning car on a motorway last June.
The Luton based team dragged the injured driver, Storm Warner, away from his car which had been involved in a crash on the M1 before it exploded.
The 22-year-old mechanic from Dunstable took six months to recover.
He nominated the East of England paramedics for the Sun newspaper award in "recognition for what they do".
Mr Warner's car clipped the back of a lorry on the motorway and caught fire.
"I don't have any recollection of the event, but have built a picture in my head from what I've been told by people who were there," he said.
"You can't thank someone for saving your life. It's one of the reasons I nominated them, to show them and all the NHS staff how grateful I am."
Phil Smith, leader of East of England Ambulance crew said: "It's very rare that we get thanked for things, and for someone to come forward is amazing."
Mr Smith was working with Laura Wallace, Emily Wallis, Julia Horswell when they got the call to attend to Mr Warner.
His car was ablaze but two lorry drivers had pulled Storm out of the vehicle.
Mr Smith decided it was too dangerous to treat him so close to the burning wreck.
He decided to move Storm some 20m (65ft) away moments before the car exploded.
"We are really grateful Storm nominated us and to win it is fantastic," said Mr Smith.