Bedford Prison inquest: Inmate 'struggled to adjust to life outside'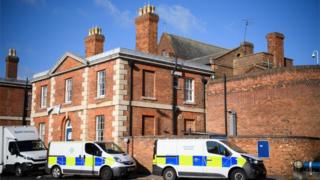 A prisoner released after serving 23 years for murder killed himself after struggling to adjust to life on the outside, an inquest has heard.
Anthony Coughtrey, 42, died at Bedford Prison in September 2015, having been released on licence earlier that year.
Ampthill Coroner's Court heard he was asked to leave two rehab centres and was sent back to jail for an assault.
The inquest jury heard the probation service did not have resources to provide him with accommodation.
The jury has been asked to decide if support was adequate and appropriate for Mr Coughtrey once he left prison, if his death could have been avoided, and if the authorities should have known he was at risk of harm.
His probation officer, Nick Moss, said recalling him to prison was "the last resort".
'No alternatives'
Prior to his return to prison, Mr Coughtrey had been staying with his sister which was in breach of the conditions of his licence, the inquest was told.
Mr Moss said no alternatives were available.
"I don't have any accommodation to offer him," he said.
"For housing you go the local authority but there are no places for single men. Private rented is his only option - a bedsit - but it's too expensive."
Family concern
The court heard while Mr Coughtrey had been living with his sister, he had been drinking heavily. His licence was revoked after he got into a fight on 23 September 2015.
His sister told a police officer she thought he was going to end his life but seemingly the message was not communicated to prison officers, coroner Tom Osborne said.
Mr Coughtrey was transferred to Bedford Prison's healthcare centre where he was observed by a nurse, but was later found hanged.
The inquest continues.