'One million untaxed cigarettes' found in van on M1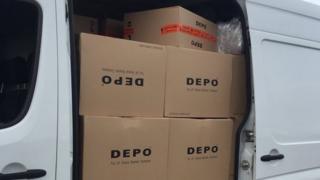 A learner driver was pulled over by the police on the M1 with about "one million" untaxed cigarettes in his van.
The cigarettes - worth about £560,000 according to police - were seized by road policing officers along with the vehicle.
The driver was arrested on suspicion of immigration offences, Bedfordshire Police said.
The van was stopped between junctions 13 and 14 for Milton Keynes and Bedford.
The arrest was made as part of Operation Trivium - a Europe-wide initiative focusing on foreign national offenders - by officers from Bedfordshire, Cambridgeshire and Hertfordshire road policing unit.