M1 minibus crash pair out of hospital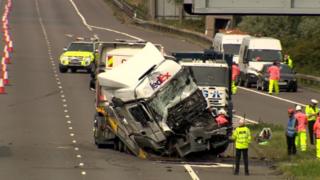 Two people, including a five-year-old girl, injured in a collision on the M1 that killed eight have left hospital.
Six men and two women travelling from Nottingham to London died in the crash involving two lorries and a minibus on 26 August, near Newport Pagnell.
Four people were injured in the collision. Two have been discharged from hospital and two remain.
Two lorry drivers have been charged with causing death and serious injury by dangerous driving.
One of the drivers - Ryszard Masierak, 31, of Evesham, Worcestershire - also faces charges relating to drink-driving.
Mr Masierak and David Wagstaff, 53, of Stoke-on-Trent, are due to appear at Aylesbury Crown Court on 27 October.
An inquest heard the minibus passengers were on their way to catch the Eurostar to France when the crash happened on the southbound carriageway, near junction 14 at 03:15 BST.
The victims were Catholics from Nottingham's Malayali community and originated from Kerala in southern India.
M1 crash victims
Minibus driver Cyriac Joseph, 52
Rishi Rajeev Kumar, 27
Vivek Baskaran, 26
Karthikeyan Pugalur Ramasubramanian, 33
Panneerselvam Annamalai, 63
Subramaniyan Arachelvan, 58
Lavanyalakshmi Seetharaman, 33
Tamilmani Arachelvan, 50