Shefford Royal Mail row: Anger after post boxes repainted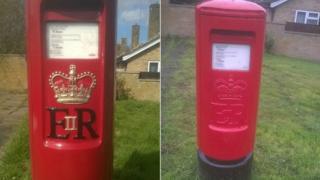 Seven post boxes decorated to celebrate the Queen's 90th birthday have been repainted after the Royal Mail said they did not meet its standards.
Decorator Ray Powell painted the boxes in Shefford, Bedfordshire, red, the crowns on the boxes gold and the ER black.
The Royal Mail said post boxes should not be painted without permission.
Paul Mackin, the mayor of Shefford, said the repainting was "disgusting and a waste of money".
Mr Powell, from Potton, told the BBC he painted the crown because "I just thought if I'm going to do it, I'm going to do it so they stand out".
"When they [the Royal Mail] repainted them, local people came up to the painter asking, 'what are you doing? They couldn't understand it," he added.
Mr Mackin said: "Mr Powell did a really professional job. When I saw them, they looked absolutely superb.
"Then they [the Royal Mail] just painted them red, like someone had just dipped them in red paint. A complete foul up. I think they should paint them back properly as a mark of respect to him [Mr Powell]."
The Royal Mail said: "We have a joint policy with Historic England and work closely with the Letter Box Study Group to maintain and protect our boxes.
"This outlines the decoration and maintenance standards we are required to meet."
A spokesman said the post box painting by Mr Powell did not "meet those standards".