Hertford Regional College on 'lockdown' after boy injured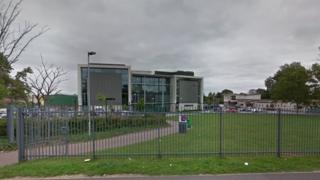 A college campus was reportedly put on "lockdown" after a teenage boy was injured.
Police were called at 15:05 BST to reports that a boy received a puncture wound at Hertford Regional College in Turnford, Broxbourne.
Paramedics treated the boy at the scene and he has since been transferred to hospital via ambulance.
Police are not yet certain exactly how the wound has been caused and no weapon has yet been recovered.
A college spokesman said: "We are working closely with police to establish the circumstances.
"We are taking this incident very seriously. The safety of our students is a priority of the college."