HMP Bedford: Prison 'failures' contributed to inmate death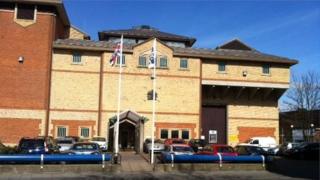 Prison service failures contributed to the death of an inmate who hanged himself with a prison bed sheet, an inquest has concluded.
Mark Vagnoni, 35, died in hospital two days after he was found at HMP Bedford in July 2016.
The inquest heard he had suffered with paranoid schizophrenia and was in a state of agitation before he died.
It concluded that failures and missed opportunities by the prison contributed to his death.
In a narrative conclusion, the jury at Ampthill Coroner's Court said a failure to open an ACCT (suicide and self-harm prevention measures) in May 2016 was a missed opportunity, there were systematic failures to share information and the "absence of universal training in ACCT".
These resulted in inadequate monitoring of Mr Vagoni, the jury concluded. The fact that mental health staff were not available to inform the decisions of prison staff "contributed significantly" to his death, it said.
The jury also concluded that while Mr Vagnoni "deliberately chose to suspend himself" the evidence did not explain whether he meant to kill himself.
"We feel that he may have been making a call for help, or perhaps he was acting wholly irrationally, whilst under the influence of drugs," the jury said.
'Let down'
In a statement, Mr Vagnoni's family said he was "let down by the prison and mental health services".
"He had previously spent long periods of time detained under the Mental Health Act.
"The prison ought to have done more to protect him," the statement said.
"Had Mark been under more frequent observation, his death may have been prevented.
"More could have been done to communicate, understand and document Mark's issues."
The prison service has called it a "tragic case".
"We take the welfare of prisoners extremely seriously and HMP Bedford is introducing a number of steps to improve the standard of care, including extra training for staff so they can better support vulnerable offenders," a statement said.
"We will look very carefully at the findings of the inquest to identify lessons learnt and further improvements."