Community rallies after East Harling dog walker death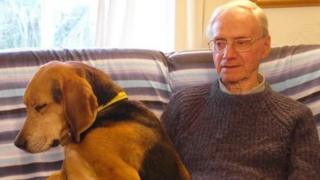 A 'buddy scheme' to reassure dog walkers will be launched three months after the killing of a local pensioner.
Peter Wrighton, 83, was found stabbed to death as he walked his dogs in woodland near East Harling, Norfolk, on 5 August.
Community leaders say they hope the scheme will "provide a positive outcome to such a sad crime".
The aim will be for locals to enjoy the outdoors together and "feel safe", they said.
Post-mortem tests showed grandfather Mr Wrighton, from Banham, had been repeatedly stabbed in his neck and head.
His dogs, Dylan and Gemma, were found unharmed nearby.
Read more Norfolk stories here
Norfolk Police engagement officer Amy Lucas said: "We are aware the murder of Peter had a significant impact on the communities of East Harling and we want to encourage them to continue with their daily business.
"Community spirit is vitally important and we hope, by using one of Peter's loves, the spirit will return."
A public meeting on Wednesday decided the scheme - called Breckland Dog Walkers - will launch on 26 November. It has the support of Mr Wrighton's family.
PC Lucas added: "This is a way for the community to feel safe and take control of a situation where they may have felt powerless.
"This new dog walking group will be very well received by East Harling and its neighbouring villages as a new way to enjoy the beautiful woodlands that surround our village whilst making new friends along the way."
A 23-year-old man from Cringleford will go on trial in February charged with Mr Wrighton's murder.