Binman trapped under 'defective' lorry had cardiac arrest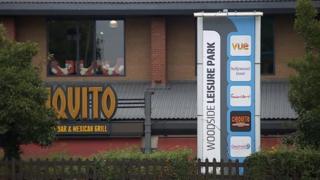 A binman was dragged under a "defective" lorry before it burst into flames, an inquest has heard.
Peter Coleman, 54, from Dunstable, was collecting bins at Woodside leisure park in Watford on 11 October 2014.
As the truck began to move on its own, Mr Coleman became trapped under its rear axle as he attempted to bring it to a halt.
The father-of-two died in hospital after suffering a cardiac arrest.
A jury inquest at the Old Courthouse in Hatfield, Hertfordshire, heard how Mr Coleman - who both drove and operated the bin lorry alone - arrived at the leisure park at about 06:00 BST.
More stories from Beds, Herts and Bucks
He reversed the vehicle into a service area and got out to load two bins when the truck began to move forward.
Retired police officer Robert Wagstaff, who prepared a technical report for the court, said the waste vehicle was "left in drive", "with the handbrake applied and ignition on".
CCTV stills showed Mr Coleman running after the truck before he was dragged underneath.
The vehicle came to rest on a low bank and about 12 minutes later an explosion caused by a tyre is seen, the inquest heard.
PC Wagstaff read a submission from specialist vehicle examiner Mark Balaam, which found the truck was "unroadworthy because of a brake defect". A "wiring fault" was also detected.
It "would have contributed to this collision," the coroner was told.
A safety mechanism that would have prevented Mr Coleman operating the rear arm of the truck while it was moving had also failed, PC Wagstaff added.
Mr Coleman, who worked in the industry for more than 20 years, was cleared from the vehicle conscious and chatted to paramedics before suffering a cardiac arrest at the scene.
He had a further arrest at Watford General Hospital and was pronounced dead at about 09:30.
A post-mortem examination revealed Mr Coleman had suffered pelvic trauma and bleeding on the brain.
Coroner Geoffrey Sullivan asked the jury to consider if the condition of the vehicle had a "contributory factor" in Mr Coleman's death.
The hearing continues.