Arrest over car stolen with owner clinging to bonnet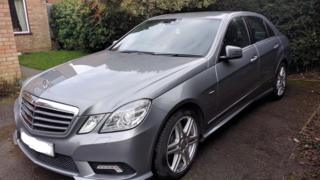 A man has been arrested over the theft of a car in which its owner tried to prevent it being stolen by jumping on to the bonnet.
Matt Spooner was assaulted after giving a prospective buyer of the vehicle a test drive on 13 September.
He climbed on to the bonnet and clung on for almost a mile after the driver sped away from Berkley Road in High Wycombe.
A man, 18, was arrested on Tuesday on suspicion of robbery.
He has been released under investigation.
Mr Spooner, who is a production safety advisor for film stunt teams, had met the potential buyer of his silver Mercedes Benz E250 CDI at about 18:00 BST.
It was then driven on to the A40 towards Beaconsfield, where he jumped off as the driver slowed down. He suffered cuts and bruises to his face.
Thames Valley Police has appealed for witnesses or anyone with dashcam footage to come forward.