Milton Keynes Co-op body storage under flats plan postponed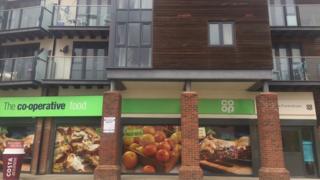 A decision to store bodies at a new funeral parlour underneath residential flats has been put on hold following complaints from residents.
The Co-op has converted an area of its Grange Farm supermarket into an undertakers and said it would include cold storage and viewing areas.
Some people feared bodies would be "trundled... under people's balconies".
The company said it had "listened" to concerns and would make a final decision in a month's time.
The undertakers will open in a fortnight, but only to "provide support" to bereaved families, the Co-op said.
Last week the firm said the parlour would be "screened" to shield the bodies.
Speaking to the BBC at the time, one resident, who wished to be known only as Sue, said: "They will trundle them [the deceased] along the pathway, under people's balconies. There's a lot of young children live in those flats and a children's nursery on the other side of some bushes.
"How are you going to explain what is on the trolley?"
Discussing the Co-op's latest move, Luke Farrell, who lives above the store, said: "It's not a particularly nice thing to have below you.
"The Co-op never consulted residents - from an ethical prospective they crossed the line.
"They haven't ruled it out and that's a concern."
Matt Jackson, from the funeral parlour at the Co-op, said it had "listened hard" to concerns and would use "facilities that are further away" for the foreseeable future.
He said a final decision on whether bodies are stored at the Milton Keynes site would be taken in a month's time, after "listening" to residents and "addressing concerns".
"This [criticism] isn't something we normally encounter, but we have had some very strong feedback," he said.
As the site is only being converted Co-op did not have to consult with people in the flats, Mr Jackson explained, but said: "Out of respect, that is why we are pausing now."