Two injured as car hits market stalls in Buckingham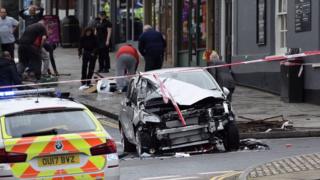 Two elderly women were hurt - one of them seriously - when a car crashed into market stalls and a lorry in Buckingham's market place.
It happened in Market Square just before 08:50 BST.
Firefighters released an injured woman from the car, and a female pedestrian was also hurt.
One trader, who escaped injury, described how the car destroyed his stall after it mounted the pavement while travelling at speed.
The ambulance service said a pedestrian suffered a serious leg injury, while the driver of the car was taken to hospital with minor injuries.
The pedestrian, who also suffered a less serious head injury, was taken to the major trauma centre at John Radcliffe Hospital in Oxford.
Eyewitnesses spoke of their shock.
Stallholder Nigel Price said: "A car came down the pavement, out-of-control and demolished my stall - I estimate it was doing about 50mph.
"Fortunately I was stood on the other side of the road - it's one of those things you just can't believe."
Raimonda Barauskaite, who works nearby, said: "I heard a very loud noise and thought something horrible had happened.
"I looked outside and the whole market had gone."
Diana Blamires said: "It was clear that a car had ploughed through the market and into a lorry. There was debris everywhere. It was chaos.
"There were quite a few people at the scene who were just shocked and worried about what had happened."
A Facebook post by Thames Valley Police said: "Many of the market stalls were damaged during the collision."