M1 crash deaths: Victims named at inquest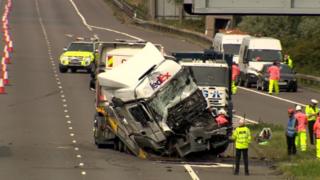 All eight victims killed in an M1 crash during the August bank holiday weekend have been officially named for the first time.
An inquest in Milton Keynes on Tuesday confirmed the identities of those who died in the crash between two lorries and a minibus near Newport Pagnell.
The six men and two women were heading from Nottingham to London when their minibus was hit on 26 August.
The inquest has been adjourned pending the outcome of criminal proceedings.
Milton Keynes senior coroner Tom Osborne released the victims' bodies to their families during the hearing at the city's Crownhill Crematorium, in Buckinghamshire.
Four of the victims - two men Panneerselvam Annamalai, 63, Subramaniyan Arachelvan, 58, and two women Lavanyalakshmi Seetharaman, 33, and Tamilmani Arachelvan, 50 - have been named for the first time.
Those who also died - and have been previously named - were minibus driver Cyriac Joseph, 52, and IT workers Rishi Rajeev Kumar, 27, Vivek Baskaran, 26, and Karthikeyan Pugalur Ramasubramanian, 33.
Four other people in the minibus - including a four-year-old girl left orphaned by the tragedy - are in hospital.
The victims were Catholics from Nottingham's Malayali community and originated from Kerala in southern India.
They were on their way to catch the Eurostar to France when the crash happened on the southbound carriageway at 03:15 BST.
The coroner was told a lorry stopped in lane one of the motorway next to the junction 14 slip road.
The minibus slowed and stopped, and was then hit from behind by another lorry.
Condolences were expressed to the families by the coroner, who said the bodies could be repatriated to India.
Two lorry drivers - Ryszard Masierak, 31, of Evesham, Worcestershire, and David Wagstaff, 53, of Stoke-on-Trent - have both been charged with causing death and serious injury by dangerous driving. Mr Masierak also faces charges relating to drink-driving.