British man's heavily-pregnant Chinese wife denied visa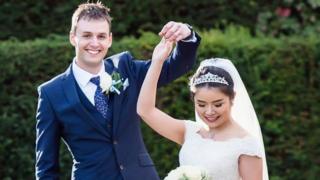 A British man says he is "heartbroken" because his heavily pregnant Chinese wife has been refused a UK visa.
David Kiff, 32, and Wanwan Qiao, 27, got married in November and are due to become parents in September.
Mrs Qiao's visa application was unsuccessful. The Home Office told her there was "no reason" why she and Mr Kiff "could not relocate to China".
She has been given a four-month visa extension until 17 December and will then have to reapply to stay in the UK.
But Mr Kiff said his wife could be deported to China and he might have to quit his job to raise their child alone.
He said: "I'm heartbroken. They're basically trying to kick me out as well - it is astounding.
"My wife's not well at all. She's taken this news really badly and was admitted to hospital yesterday with high blood pressure."
The couple - who live in St Albans - said they have spent nearly £4,000 in legal and application costs and more than £3,500 in medical bills as Mrs Qiao is not entitled to free NHS healthcare.
Mrs Qiao has lived in the UK for three years - initially on a student visa - and the couple met in April 2016 after chatting online.
The Home Office's notice of decision said: "While we accept that you and your husband are in a genuine and subsisting relationship, you have provided no evidence that there would be any insurmountable obstacles to your family life continuing in China."
Immigration rules
For a visa to be granted to a non-EU spouse, immigration rules require a couple to be earning a combined income of at least £18,600 a year.
If this requirement is not met then a visa may still be obtained if "there would be very significant difficulties" for a couple to live together outside the UK.
Mrs Qiao's first application was turned down because Mr Kiff was self-employed and unable to properly demonstrate his income.
He insists that he provided adequate proof of income for her second unsuccessful application.
But a Home Office spokesman said: "Mrs Qiao's application was refused on this occasion as it did not meet the immigration rules.
"However, given Mrs Qaio's circumstances we have granted her four months' exceptional leave to remain so she can give birth in the UK.
"Any further visa application from Mrs Qiao once she has given birth will be considered."
Home Office figures show the number of partner visas granted fell from 46,906 in the year ending June 2006 to 27,345 in the year ending June 2015, when it says 66% of applications were approved.