Mum and daughter come forward to claim £1m lottery prize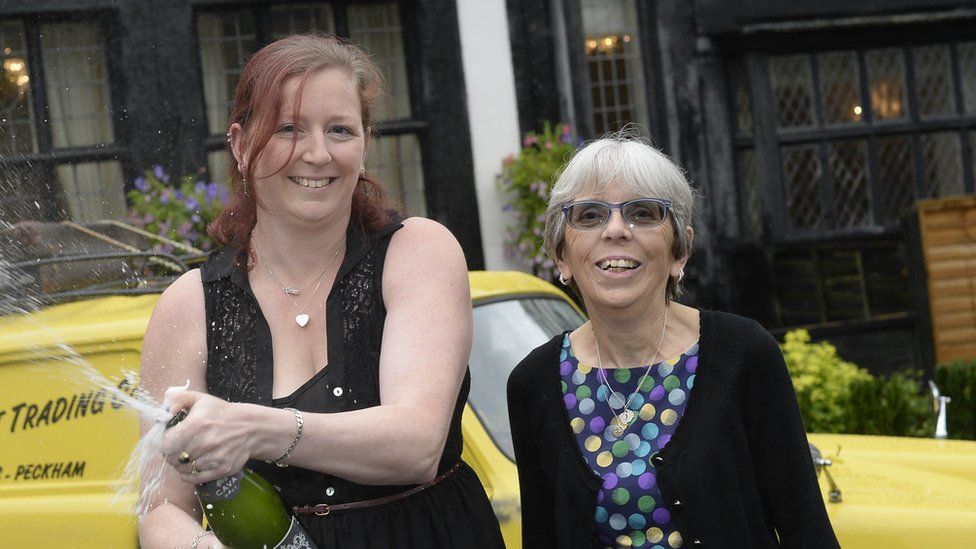 A mother and daughter have collected a £1m lottery jackpot after reading about an unclaimed prize in the local paper.
Brenda Page, 66, and her only daughter Julie, 32, won the Millionaire Raffle top prize on 8 July, but did not claim their winnings for three weeks.
"Mum buys our tickets four weeks in advance and only checks them when she buys the next four-week batch," said temp worker Julie.
The pair from Radlett, Hertfordshire, want to buy new homes with the money.
"I was made redundant a few weeks ago so was on a temp job when Mum called," Julie said.
"She was whispering about a story in the newspaper and a lottery ticket, and for a moment I thought she'd gone a bit loopy but when she said 'and we've won one million' I soon took notice.
"When I got home I told my partner I had good and bad news. The bad was I had a parking ticket, and the good was that he was about to marry into a millionaire family.
"He looked up and said 'how did you get a parking ticket?' before doing a double-take and asking me to repeat the bit about a millionaire."
Brenda bought the pair's winning Lotto Millionaire Raffle ticket at Dipa News on Shenley Road, Borehamwood.
"Julie and I are so close and being able to share this win is just magical." she said.
"To know that we will both be able to buy our own homes outright as a result is the absolute icing on the cake."
Related Internet Links
The BBC is not responsible for the content of external sites.