Cyclist, 91, killed in time trial 'excelled with age'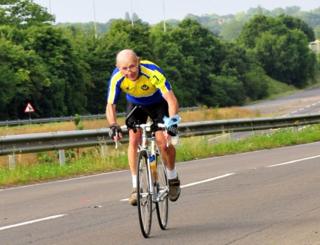 A 91-year-old cyclist killed on a dual carriageway while trying to set a new record "came into his own as he grew older", his club said.
Ray Dare died in a crash involving a van on the A41 Aston Clinton bypass, near Aylesbury, on 19 July.
The Kingston Phoenix Road Club said at the time he was attempting to ride 10 miles in under 29 minutes and 43 seconds and it had been "going well".
Thames Valley Police has appealed for witnesses. No arrests have been made.
'Barely slowing down'
The Surrey-based club, where Mr Dare had been a member for 65 years, said it was "devastated" by his death.
A spokesman said he was a good rider in his younger years but "came into his own as he grew older, barely slowing down as his contemporaries did".
His specialist event was time trialling, where a cyclist rides alone between two time keepers against the watch.
Mr Dare was taken to the Buckinghamshire time trial event by club mate John Beer, and they drove round the course before the trial to familiarise themselves with it.
When he died, he was trying to break the 2003 record held by Jack Brownhill of the Abbotsford Park Road Club.
A few weeks ago he recorded a time of 29:59, and "knew that he could meet the challenge", the club said.
"Ray was excited for the event and knew that he could break the record.
"By all accounts he was going well and would have achieved his goal. Sadly his ride only lasted eight of the ten miles before tragedy struck."
Mr Dare held eight national Veterans Time Trials Association (VTTA) records including at the age of 88, riding 50 miles in 2:52:01 and 10 miles in 27:57.
National secretary Rachael Elliott said that while the VTTA has a number of members aged over 90, she believed Mr Dare had been the oldest person actively racing in the UK Time Trials when he died.