Leonard Flower inquest: Grandfather's death 'not preventable'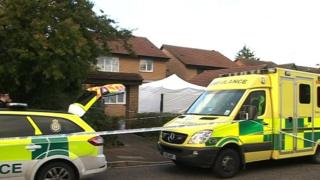 Earlier intervention would not have prevented the death of a grandfather at the hands of his neighbour, a coroner has ruled.
Leonard Flower, 67, was stabbed 17 times as he tidied his garage in Carnegie Gardens, Luton, on 22 October 2013.
His neighbour, religious fanatic Sameer Babar, 35, has since been detained in a secure mental health unit.
Acting senior coroner Ian Pears ruled Mr Flower was "unlawfully killed".
A five-day inquest in Ampthill heard that paranoid schizophrenic Babar had been judged as "no immediate risk" four days before the killing.
Mr Flower was found lying in a pool of blood by a couple delivering leaflets. The inquest heard he had been stabbed in the chest.
He died shortly after ambulance crews and police arrived. His wife Lynda had been in the house at the time, unaware of the attack.
Babar later pleaded guilty to manslaughter and was detained indefinitely under the Mental Health Act at Luton Crown Court in April 2014.
The inquest was told that concerns about his mental health, faith and ideology were raised to police in July 2013.
A serious case review carried out in November 2015 found that Mr Flower's death could have been prevented had agencies worked together more effectively.
During the inquest, a mental health crisis team run by the South Essex Partnership University NHS Foundation Trust, was described as working on an "ad-hoc" basis.
But in his conclusions, Mr Pears he did not believe "any earlier action would have resulted in a different outcome".
However, Mr Pears said local teams were making progress, and called for continued funding for Bedfordshire's so-called Street Triage team. The scheme, where a specialist team responds to mental health crisis calls, was launched locally in 2016.
Read more Beds, Herts and Bucks stories here
Julian Hendy, founder of bereavement charity Hundred Families, described Mr Flower's death as "deeply tragic".
"We see over 100 homicides by people with mental illness in the UK every year," he said. "Families are left completely isolated.
"There's an unwillingness to tackle violence by people with mental illness, and the system is very patchy."
He added: "The amount of information given to victims' families is very limited out of concerns for patient confidentiality.
"What was their care and treatment like before they committed this act and were there things that could have been changed that may have avoided this terrible incident in the first place?"