Boss threatened staff with redundancy if they voted Labour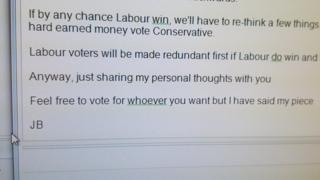 An IT boss who told staff they would be first in line for redundancy if they voted Labour has said the threat was just "banter".
John Brooker sent an email to employees at Storm Technologies in Watford on 8 June, the day of the general election.
It said: "Labour voters will be made redundant first if Labour do win and things slow down".
The GMB union said it was "unacceptable and morally wrong" but Mr Brooker insisted it was "totally made in jest".
Managing director Mr Brooker sent the email to more than 100 employees at the company's offices on Croxley Business Park.
It said he would have to "re-think a few things here at the company" if Labour won.
"So if you value your job and want to hold onto your hard earned money vote Conservative," it continued.
Warren Kenny from the GMB said: "A boss should not be harassing employees or interfering with their right to vote for who they wish - it's Dickensian, workhouse nonsense.
"Any staff working for John Brooker should have been able to vote for their candidate or party of choice without fear for their jobs and their livelihoods."
'Internal banter'
In a statement, Mr Brooker said: "The email was a 'tongue in cheek' note sent immediately after a large group of my staff and I were having a joke in the company canteen on the day of the election and was totally meant in jest.
"No offence was intended, nor was there any threat whatsoever levelled at staff. This was nothing more than 'internal banter' now completely taken out of context.
"Obviously in hindsight I regret any offence this has caused and have reiterated to all my staff the respect I have for their political views and opinions."