Child sex exploitation report suggests taxi driver database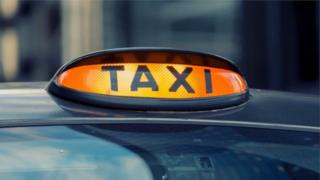 A national database of licensed taxi drivers should be introduced to make it easier to spot those with a criminal past, according to a review into child sex exploitation.
The serious case review examined all the reports of child sex exploitation in Buckinghamshire since 1998.
Issues with taxi drivers had been highlighted in a number of similar cases around the country, the report's author found.
In total, 14 recommendations were made.
Figures recently showed hundreds of taxi drivers had been granted licences, despite declaring criminal convictions.
The independent review said it was "clear that taxi drivers picked young people up from schools and children's homes and some drivers were directly involved in the abuse of the young people".
It found that complaints about drivers were not always taken to licensing officers, and that licensing authorities were not told if a taxi driver had been arrested unless the driver revealed their occupation.
Several recommendations were made to address issues around taxi drivers, including the introduction of a national central database of all licensed drivers, indicating whether any had been subject to any regulatory sanctions.
Another recommendation suggested that Buckinghamshire's four district councils and county council should improve the way they shared information with police, "by considering a special point of contact within Thames Valley Police for taxi-related issues".
Buckinghamshire County Council said the report found "good practice and strong partnership working in place to tackle sexual exploitation", as well as areas for further improvement.
The county's safeguarding children board, which commissioned the review, wanted to ensure the "full spectrum of historic cases was examined back to 1998", its chair said.
"The review shows that work carried out in Buckinghamshire to combat exploitation now is effective, and multi-agency working has really embedded in the last three years," Fran Gosling-Thomas added.
Steve McNamara, general secretary of the Licensed Taxi Drivers Association, said any driver with a criminal conviction should not be allowed to transport members of the public.
"The problem is that councils set their own licensing standards and in some areas these are woefully inadequate - putting the public at risk," he added.
"[We] would support a national database of taxi and PHV (private hire vehicle) drivers. However, we believe that the government should go further by establishing a clear set of robust minimum licensing standards, applicable across all licensing authorities, that includes a mandatory enhanced DBS (Disclosure and Barring Service) check."