Artist's window cleaner jailed for stealing paintings worth £500k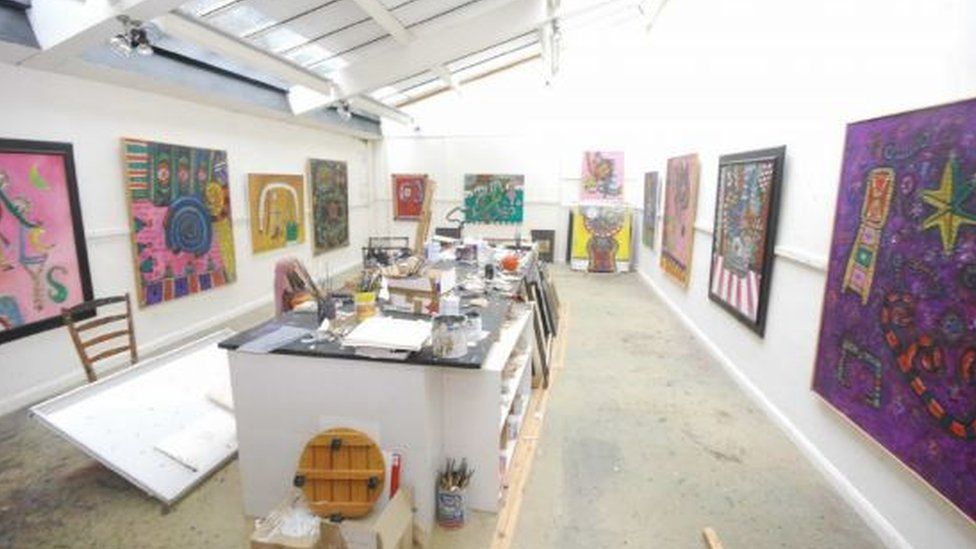 A window cleaner who acted like a "vulture on a carcass" by stealing valuable paintings from a dead artist has been jailed for four years.
Daniel Pressland, 42, took artwork worth £500,000 from the Hertford home of renowned Scottish artist Alan Davie.
Pressland, from Billericay, Essex, had been Mr Davie's window cleaner since 2002, St Albans Crown Court heard.
In the months after the artist's death in 2014, Pressland burgled his house several times, taking 31 paintings.
Judge John Plumstead told him: "You happened on an opportunity to get rich quick by stealing from someone who you had been working for for years.
"You were like a vulture on a carcass and just helping yourself. You acted disgracefully."
The judge said Pressland, of Outward Common, had not realised the art gallery that acted on behalf of Mr Davie had a record of everything he had painted in his lifetime and would know what was missing.
Mr Davie, who was 93 when he died, had been admired by painters such as Jackson Pollock and David Hockney, and had his work displayed at the Tate gallery.
Neighbours of Mr Davie's home in Gamels Studio, Rush Green, saw Pressland at the house putting canvases into a van and called police, who caught him as he was driving away.
The jury heard Pressland had tried to claim he thought the paintings had been "put out... for the rubbish".
"He said he had taken them away as a favour and he thought he would use them for skateboard ramps." prosecutor Sarah Morris told the court.
After his arrest, police discovered Pressland had been in contact with an auction company and had sold two paintings under the hammer.
Of the 31 paintings stolen from the house, nine have so far been recovered.
Related Internet Links
The BBC is not responsible for the content of external sites.