Dunstable Downs Golf Club apology over dog shooting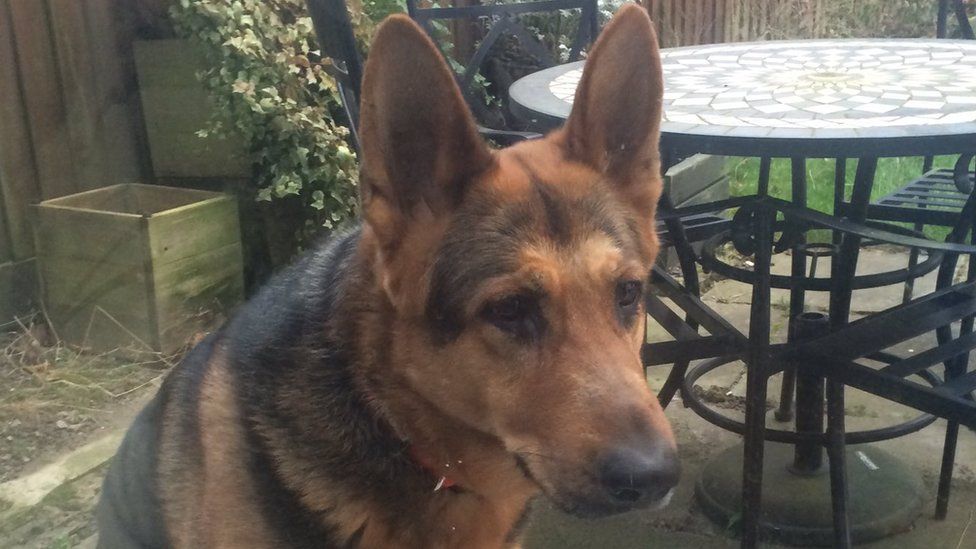 A golf course has apologised after a dog was mistakenly shot by a pest controller on its land.
German Shepherd Bruno needed an operation to remove pellets from his face but has since recovered.
Club manager Duncan Mutton called it a "terrible accident" and said shooting at the site had been stopped.
Mr Mutton said that the club had received abuse on social media from people who oppose fox hunting.
"It's been horrendous," he said. "According to people on Facebook we are murderers and have no right to be killing wildlife.
"We allow people to come and shoot as their hobby and it's all controlled by the police.
"The police need to be aware that people have a full licence for whatever firearm they're using."
Foxes are considered a pest and it is legal to shoot them in rural areas using a suitable firearm and with the landowner's permission.
Mr Mutton said the dog had strayed from a public footpath that crosses the course, but the animal's owner, Mark Cornell, said they had stayed on the path.
He said: "There was someone with a torch in the field. There was a big gunshot and Bruno let out the most horrendous noise. It wasn't a bark or yelp but more of a scream.
"There was a hole in his ear and blood all over his face. I'm very angry that this has happened. It's a public footpath and you'd expect to be able to use it in safety."
Mr Cornell said the man who shot his dog had called to apologise and reimbursed the £600 vet bill.
Related Internet Links
The BBC is not responsible for the content of external sites.