Dog dies of toxic shock syndrome after licking mouldy food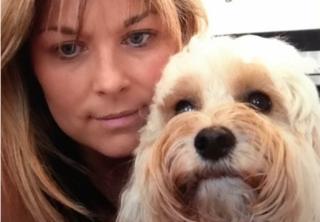 A dog has died from licking mouldy food that fell out of the family's recycling bin.
Dexter the cockapoo suffered multiple organ failure after contracting toxic shock syndrome from digesting the mould from a recycling caddy in the garden.
His owner Sarah Dent, of Bovingdon, near Hemel Hempstead, said her pet was "shaking and having a fit" and had to be put into a coma.
She warned other dog owners on Facebook of the dangers of mould to animals.
Mother-of-three Ms Dent said: "He [Dexter] was shaking and having a fit.
"We took him to the vets and they worked on him. He had to be put into a coma. He had multiple organ failure."
---
Canine toxic shock syndrome
TSS is a serious and often fatal disease syndrome seen in dogs.
The disease is characterised by multi-organ failure and shock.
Without treatment a dog could die within a few hours.
No vaccination is available for it.
---
Eventually it was decided Dexter had to be put down.
The family's other cockapoo Georgie also started fitting after "consuming some of Dexter's vomit", Ms Dent said.
Georgie was taken to the vet and survived.
Ms Dent said she knew what happened to Dexter earlier this month was an accident but "I will always be sorry I did not keep him safe".
'Absolutely heartbreaking'
She has now called on people to "please be aware of this if you have dogs, so that hopefully this doesn't happen to anyone else".
"I want to make friends and neighbours aware of what can happen... that dogs can be poisoned in this way," she said.
RSPCA London veterinary director, Caroline Allen, said: "It's absolutely heartbreaking to hear what happened to these poor dogs and our thoughts go out to their owners who must be devastated.
"We always advise pet owners to keep bins out of reach of dogs as they can contain things which are poisonous to animals, such as raisins, chocolate or onions.
"Mycotoxins - produced by mould - can also be dangerous so we would urge pet owners to keep bins securely and out of reach, and would advise cleaning them out regularly to avoid a build-up of mould."