Murder probe after Milton Keynes aggravated burglary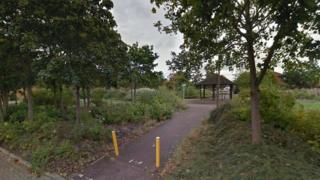 Detectives are investigating the murder of a woman who was assaulted during a burglary at her home.
The woman, in her 60s, was held down while six men burgled her home in Milton Keynes on 31 January. They escaped with cash and jewellery.
The victim became ill while giving police a statement the following day and died in hospital 11 days later.
A murder investigation was started following post-mortem tests. The results have not been disclosed.
The woman had initially answered the door after a man knocked at her home in Orne Gardens, Bolbeck Park. She closed the door on him and said she was alone, Thames Valley Police said.
More news from Buckinghamshire
A short time later at about 18:00 GMT, she answered the door again and six men pushed past her.
The woman was knocked to the floor and one man held his hand over her mouth while the others searched the house.
She became ill while talking to police the next day and was taken to Milton Keynes University Hospital, where she died on 11 February.
Officers described the first man as white, 6ft 2in (187cm) tall, and of large build. He was wearing a baby blue sweater with a high neck, jeans and fingerless gloves.
The other offenders had their faces covered, but all were white and were wearing dark tops and jogging bottoms or jeans.
Police are appealing for witnesses as they believe the men might have been "cold calling" on doors in the area.