Traveller guilty of running over feud rival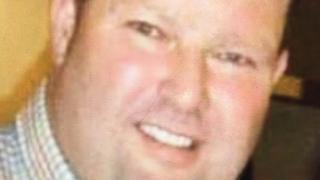 A man has been found guilty of the manslaughter of a "gentle giant" who was part of a rival traveller family.
Patrick Maloney, 43, died from multiple injuries after he was hit by a van at Toddbury Farm, Little Billington, near Leighton Buzzard, in August.
Christopher McCarthy, 22, was found guilty of manslaughter, after being cleared of murder.
The jury failed to reach a verdict over his brother, Thomas McCarthy, 24, who denied actual bodily harm.
Judge Michael Kay QC discharged the jury in the case of Thomas McCarthy. At a sentencing hearing on Tuesday the prosecution will announce whether it will seek a retrial.
Luton Crown Court head how the McCarthy family had been in a "simmering feud" with the Maloneys.
Prosecutor Miranda Moore QC told the jury that just before 22:30 on 2 August, Thomas McCarthy went to the Maloneys' plot in a BMW X5 to pick a fight.
Thomas McCarthy told the court his sister had started screaming when a laser light was shone at her room from where the Maloneys lived.
He struck Mr Maloney with two punches, causing his nose to bleed, before he and two teenagers ran off.
The BMW which was left behind was then "trashed" by the Maloneys, the court heard, with a brick put through the windscreen.
Christopher McCarthy said he had gone to the plot in his van, fearing his brother was being killed.
"I could see his X5 at the bottom of the road," he said. "There was quite a few people and the back window was smashed."
Then he said he saw up to six people standing by a gate and could see weapons. He pulled up next to his brother's car to see if he was inside.
"I was worried, I thought me brother was dead. There was nobody in vehicle," he said.
In a panic he said he reversed and lost a wing mirror before deciding to turn around in the unoccupied plot.
"I was crying. I was terrified. I was only thinking 'How am I going to get out of here?' I was shaking behind the steering wheel."
He said he had "no intention" of hitting Mr Maloney with his van.