Final £85k secures Lenborough Anglo Saxon coin hoard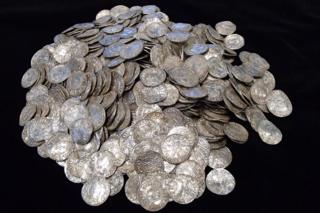 A final £85,000 needed to keep a hoard of Anglo Saxon coins together has been secured.
More than 5,000 coins, valued at £1.35m, were found in Buckinghamshire in 2014.
Buckinghamshire County Museum was given £1.27m in grants to help buy the hoard. It has now raised the extra funds which includes donations from locals.
A museum spokesman said it could now tell the story of the coins "with conviction".
'Ambitious plans'
The 5,248 coins, which were found in Lenborough, near Padbury, are believed to have been buried around 1030-1035 AD.
They depict the heads of King Ethelred the Unready and King Canute and it is hoped they will shed new light on coinage and trade from that era.
It is the largest hoard discovered since the Treasure Act was introduced in 1996.
The museum was awarded £1m from the National Heritage Memorial Fund (NHMF), £250,000 from the Art Fund and £20,000 from the Headley Trust.
It has now been pledged a further £25,000 by the NHMF and £10,000 by the Rothschild Foundation, which will be added to funds already raised from local people and organisations.
Museum director Richard de Peyer said: "The grants we have had make this a story that the museum can now tell with conviction and build into our ambitious plans for the future."
The museum originally wanted to raise an extra £115,000 to go towards displaying the collection in a new gallery but this is now part of a Heritage Lottery Fund bid to redevelop all the galleries.
The Treasure Valuation Committee ruled on the hoard's worth last June and the money shared between the finder, Paul Coleman, and the landowner.