M25 motorway 'not new Hertfordshire velodrome' cycle warning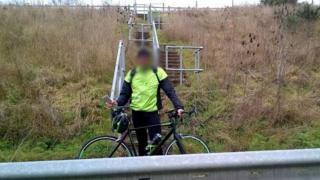 A cyclist had to be escorted off the M25 and told the road, one of the busiest in the country, was not a "velodrome".
Police said they stopped the man on the hard shoulder of the motorway near Watford, at 13:12 GMT on Sunday.
"The M25 is not Hertfordshire's new velodrome," they wrote on Twitter.
The man was reported for illegally cycling on the motorway. One person who read the tweet described the cyclist as a "noodle".
The Highway Code lists bicycles as one of a number of modes of transport prohibited from using motorways.
Horse riders and mobility scooter users are also banned.
Pedal this way legally for more news from Hertfordshire