Ex-Bourne End teacher banned over 'ball scratching' jibe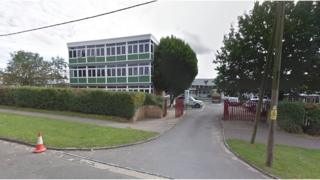 A teacher who claimed all some pupils would do in a class is "sit there scratching their balls" has been banned from the profession.
Helen Rossenberg worked for Bourne End Academy in Buckinghamshire from September to December 2015.
A conduct panel heard the 59-year-old pushed one student, grabbed another by the hair and trod on a third's foot.
The panel also found an allegation she referred to a student with special needs as "thick" proven.
Ms Rossenberg did not attend the National College for Teaching and Leadership hearing.
LIVE: For more on this and other Buckinghamshire stories
It is understood Ms Rossenberg accepted she made a comment that had some absent students been present in class "all they would do is sit there scratching their balls".
In banning Ms Rossenberg from teaching, the panel found "there had been a rapid escalation in the seriousness of the incidents that pupils were exposed to by Ms Rossenberg's behaviour, both oral and physical".