Taxi driver convicted for drink driving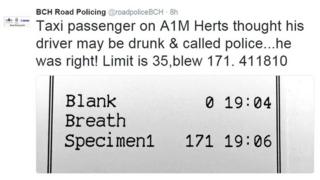 A taxi driver who started "swerving into traffic" had been drinking vodka since the day before, a court heard.
Peter Cole, 42, from Longstanton, Cambridgeshire, was asked to stop on the hard shoulder of the A1(M) near Stevenage on 12 January.
A breath test recorded 171mg of alcohol in 100ml of breath. The legal limit is 35mg.
Mr Cole was sentenced at Stevenage Magistrates' Court to 18 weeks in prison, suspended for two years.
At a previous hearing he admitted driving a motor vehicle under the influence of alcohol, and using threatening, abusive or insulting words with intent to cause alarm or distress.
The court heard Cole had left a city banking job of 20 years and became a taxi driver to be closer to home after the birth of his daughter in November.
The child had health issues and Cole had turned to alcohol "as a way of coping" with depression, the court was told.
He started his shift on 12 January after a day off in which he had been "drinking vodka all day". After picking up the passenger in Harpenden, the taxi had "stalled for several minutes" on the A1, before later "swerving into oncoming traffic".
The passenger encouraged him to pull on to the hard shoulder before calling police.
'Decent, caring man'
Ben Rich, defending, said Cole was "a decent, kind and caring man... who did a terrible thing that day".
Chair of the bench, Janet Reid, acknowledged Cole's readiness to seek help and treatment and ordered a programme of rehabilitation.
Cole will also have to pay £700 in fines and compensation, and was disqualified for three years.