Cardington airship shed marks 100th anniversary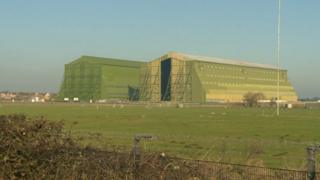 One of only two colossal sheds built in the UK to house its fledgling airship industry has turned 100.
Shed 1, along with its neighbour Shed 2, dominate the Bedfordshire skyline and can be clearly seen from the A421.
The sheds, based at Cardington, played a major role in military aviation history and heritage experts said they were "unique" and "extraordinary".
A number of commemorative events are planned throughout the year to mark Shed 1's anniversary.
Work began on Shed 1 during World War One after the brothers Eustace and Oswald Short won the contract to build the first airship in 1916. It opened the following year.
The land in Cardington, which they bought for £110,000, was picked for its flatness and proximity to London, as well as road and railway links.
'Iron cathedrals'
Shed 2, which is now used as a major film set, was built in 1925.
Shed 1 housed the construction of the ill-fated R38 and R101 under the Royal Airship Works, and then hosted the resurgence in airship engineering with the launch of the Airlander 10 in 2016.
It was designed to house a minimum of two airships.
Dr Giles Camplin, of the Airship Heritage Trust, worked in the sheds as a young man and described both structures as "extraordinary".
"They're corrugated iron cathedrals," he said.
"They are unique. There are very few in the entire world and these are the only ones in Britain.
"The atmosphere when you go in there - you can smell the history - it's fantastic."
The nearby village of Shortstown was created specially to house workers and engineers as the industry took off. The village will commemorate the anniversary this year.