M1 Bedfordshire jam lorry crash causes motorway misery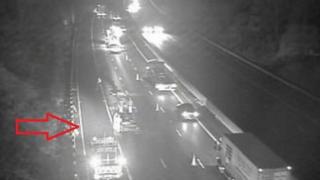 Motorists faced a sticky situation when a lorry shed its load of jam on the M1.
It was one of four lorries involved in a collision on the motorway in Bedfordshire between junctions 12 and 13 at about 07:00 GMT.
Highways England said the jam had been cleared up and all southbound lanes had now reopened.
However, it warned of continuing delays and said other routes, including the A5, had extra traffic. Police said no-one was injured in the crash.