Police killer getaway driver James Hurley loses appeal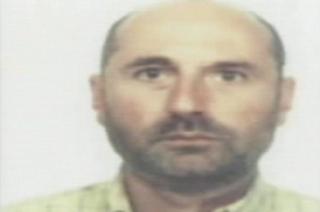 A getaway driver convicted of murdering an off-duty policeman in 1988 has had his bid to clear his name condemned as "frankly incredible".
James Hurley, 54, took part in an armed robbery in Hemel Hempstead during which PC Frank Mason was shot.
He pleaded guilty to robbery but denied murder and told the Court of Appeal he was intimidated into keeping quiet by Charles McGhee, the man who pulled the trigger.
The Appeal Court rejected his claim.
The court heard that Hurley took part in a £14,000 armed robbery in 1988, during which Hertfordshire Police, officer PC Mason shot.
Hurley admitted the robbery, which took place outside a branch of Barclays Bank.
He pleaded not guilty to murder, but did not give evidence in his own defence and was convicted.
Hurley, McGhee and fellow robber Perrie Wharrie were all handed life sentences.
Challenging Hurley's conviction at London's Court of Appeal, his barrister Joel Bennathan QC argued Hurley was intimidated by McGhee into keeping quiet during the trial.
Hurley claimed he was not aware a gun was to be used in the robbery.
McGhee died in prison in 2009, and Hurley told the court that was why he now felt able to come forward.
But Lady Justice Hallett, sitting with two other judges, refused to believe his account of events, describing his latest claim as "frankly incredible".
She told the court: "His [Hurley's] account has varied over the years in significant respects... he has changed his account several times on when he knew a man had been shot.
"He appears to be the kind of man who is prepared to change his account as and when he feels his interests dictate."