Storage Hunters star avoids jail over market trader stalking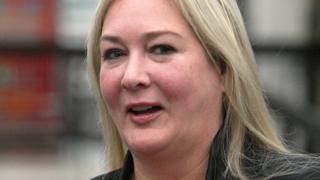 An antiques expert who starred in reality TV show Storage Hunters has been given a suspended prison sentence for stalking a market trader.
Boudicca Scherazade, 48, was found guilty last month after a trial at St Albans Magistrates' Court.
The court heard she had bombarded Laurence Roche with texts and emails for three years, telling him: "I love your curls".
Scherazade was given an 18-week jail sentence suspended for 18 months.
The Sotheby's-trained expert, of Hampton, London, appeared in the UK version of the American TV series Storage Hunters in 2015.
She first met Mr Roche at a market in 2013 and had pleaded not guilty to a charge of stalking.
The court heard she had sent him messages saying: "Come over, make me yours. Own my soul. Say my name, I will give everything I own, I love you Laurence Roche" and: "I need to cuddle up with you now. Your woman can't spoil you like I can and give you babies like I can".
She said she had sent him intimate pictures of herself and claimed the pair had exchanged messages with sexual contents.
But Scherazade was convicted after magistrates found Mr Roche, who said he had never replied to any of her emails, to be an "entirely creditable" witness.
As well as the suspended sentence, she was given a 12-month community order and told to pay £1,000 towards the cost of the prosecution.