Over-limit driver 'tries to change wheel after M1 crash'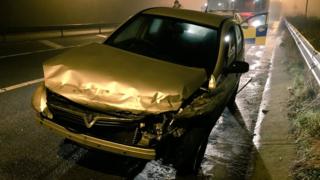 A driver arrested for being three times over the legal drink drive limit was found "optimistically" trying to change a tyre after a crash, police said.
The Bedfordshire, Cambridgeshire and Hertfordshire Roads Policing Unit tweeted pictures of the vehicle found just before 06:00 GMT on Sunday.
"Driver crashed on M1, then drove off it," the tweet said, before adding the driver was "found optimistically trying to change the front wheel".
A man has been charged, police said.
He will appear in court next month accused of driving with excess alcohol.
In England, Wales and Northern Ireland, the legal limit of alcohol per 100 millilitres of breath is 35 micrograms.