Driver of bus which struck High Wycombe house 'has good record'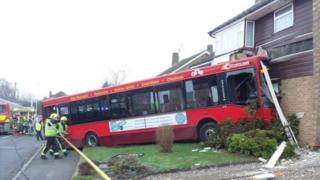 The driver of a bus which struck a house has been "relieved of driving duties" while an investigation into the accident is carried out.
The single-decker vehicle crashed into the front of the house in Holmer Green, near High Wycombe, on Saturday.
Three passengers were injured, and a man and woman inside the house in Wycombe Road were also hurt.
A spokesman for Carousel Buses said the driver involved had been with them for 16 months and had a good record.
The firm said all of the people injured had been discharged from hospital.
"We are in touch with the parties affected and are doing everything we reasonably can to assist them at this time," the spokesman said. "The vehicle records have been reviewed and are in order with no reported defects prior to the incident."