Stacey Solomon speaks out over Milton Keynes panto clipboard row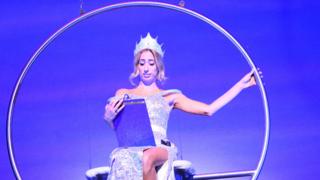 Former X Factor finalist Stacey Solomon has defended the use of a clipboard on the opening night of a pantomime.
The singer appeared on stage clutching the sparkly stationery for a production of Dick Whittington a day after returning from television commitments in Australia.
The star told ITV's Loose Women the clipboard was for "safety reasons" to make sure she hit technical cues.
She said producers at the the Milton Keynes theatre were "adamant about it".
"They made me feel really comfortable about it. They were just - 'Go on, let the audience know that it's your first time even standing on the stage and just have fun with it'," she said.
"The audience were lovely and the cast were amazing and everyone was really supportive, but I did know my lines."
Ms Solomon said the show's producers knew she would not be available for rehearsals because of presenting commitments in Australia for ITV show I'm a Celebrity.
"I landed, I woke up the next day, took the boys to school, went into panto," she said.
"I'd had no rehearsals. The company were well aware and ... really supportive of the fact that I was going to be working up until the day that it started and they still wanted me to do it."
She was grateful to co-presenter and boyfriend Joe Swash, who waded in to defend her on Twitter after criticism from EastEnders actor Aaron Sidwell.
She said: "I'm so glad I've got such an amazing boyfriend."