Casserole murder trial: Accused begins giving evidence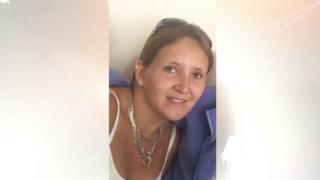 A woman accused of disguising herself as a man before killing her half-sister with a casserole dish has told a court she was not the killer.
Nikki Collingbourne, 26, was found dead at her flat in Ivel Court, Letchworth, Hertfordshire, in May.
Yvonne Caylor, 53, is on trial at Luton Crown Court where she denies murder.
Ms Caylor's barrister asked her if she murdered her half-sister or had played any part in her death to which she twice replied: "No, Sir."
Ms Collingbourne is alleged to have been attacked by Ms Caylor, of Grove Road, Hitchin, with a chicken-shaped casserole dish on 23 May, after the defendant had been charged with burgling Ms Collingbourne's flat in Ivel Court.
Ms Caylor, who used a stick to walk to the witness box, denied she had committed the burglary.
She said she had been dragged out of the flat by Ms Collingbourne after a row, but told the jury she had not hired a locksmith shortly afterwards to break in to take property.
"At no point did I call a locksmith," she said.
At the start of her evidence, Ms Caylor said she had never visited a fancy dress shop and tried on a wig. She said: "I would have to cut my hair off to put a wig on."
Her barrister Graham Trembath asked her if she was the intruder who got into the flat at around 08:00 on the day of the murder. She replied: "Since I left I have never been back there - not once never."
The trial continues.