Evidence against rape-accused Stoke Mandeville doctor 'unreliable'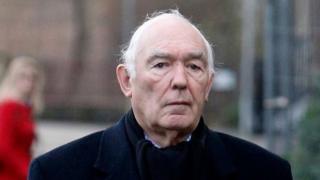 Evidence against a former doctor accused of child sex offences is "unreliable", a court has heard.
Michael Salmon, 81, from Salisbury, is accused of 26 offences alleged to have taken place at Stoke Mandeville Hospital in the 1970s and 1980s.
His defence told Reading Crown Court a number of complainants' accounts were inconsistent and some may have "misremembered" events.
Mr Salmon, a former consultant paediatrician, denies all the charges.
He has pleaded not guilty to one rape charge and 25 indecent assaults involving 18 women and one man who are now adults.
'Touched inappropriately'
The court was previously told the former doctor used his position to take advantage of young patients and in one case tied a 14-year-old patient to a couch and raped her.
He allegedly told the girl the assault was part of her treatment.
Other girls said they were separated from their parents before he asked them to take their clothes off and touched them inappropriately.
Mr Salmon has insisted he carried out normal medical examinations and that other incidents never took place.
As well as claiming a number of accounts were inconsistent, his defence barrister Mr Nicholas Haggan QC told the jury some of the alleged victims only came forward after seeing media coverage linked to a previous conviction of Salmon in 2015.
Their evidence was questioned as unreliable and it was suggested some may have misremembered what happened.
The trial continues.