HMP Bedford: Government warned of jail 'safety decline'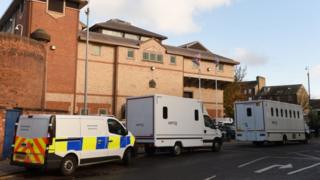 The prisons watchdog warned the government of "an alarming decline in safety" at Bedford Prison, two months before a riot there, it has emerged.
Sixty inmates were removed from the Category B jail and three were arrested after unrest on 6 November.
The Independent Monitoring Board (IMB) said it warned the government in August of the "dire situation" at the jail.
The Ministry of Justice said it was overhauling the prison system and bringing in more officers.
Inmates on wings A, B and C were involved in the November disturbance which took six hours to bring under control.
They also accessed the centre of the prison which usually contains prison equipment, staff files and other items such as phones.
The two damaged wings - which will cost £1m to fix - are expected to reopen in two months.
The Bedford IMB chair, Alexander Daye, wrote to Justice Minister Sam Gyimah in August ahead of the prison's annual report release because the "current dire situation requires urgent attention".
Mr Daye told the minister there had been "sharp increases in the numbers of assaults and serious assaults on prisoners and staff" accompanied by a rise in self-harm, two deaths in custody" and staff had "voiced fears for their own safety".
"Prisoners have begun asking us to recommend that the prison be shut down as the management appear unable to offer a predictable regime due to chronic staff shortages," he said.
"It is our view that the lack of a consistent regime, long periods of lock-up, overcrowding, shortages of kit for prisoners and the prevalence of gangs bullying other prisoners are significant factors in the recent decline in safety."
In response to questions about the IMB warning, a Ministry of Justice spokesperson said there is a major overhaul of the prison system under way, including 2,500 extra front-line prison officers.
"These extra officers will reduce violence and help tackle the drugs, drones and mobile phones that undermine safety in our prisons," she said.
The men arrested following the 6 November riot, aged 39, 37 and 26, were questioned on suspicion of committing offences under the Prison Security Act 1992 and bailed back to prison while the police investigation continues.