Police dog Nero retired over 'severe' neck injury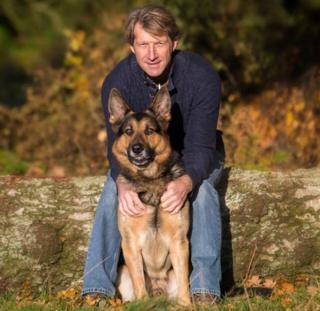 A police dog that broke its neck in two places while chasing suspected muggers is to be retired from active duty.
Nero, a German Shepherd, jumped over railings in Watford which had a 12ft (3.5m) drop on the other side.
His handler PC Clive Warncken had hoped he would make a full recovery and return to active duty but a CT scan showed the injuries were "far more severe" than initially thought.
PC Warncken now intends to keep Nero as a pet.
A spokesman from the Bedfordshire, Cambridgeshire and Hertfordshire police dog unit said that following a scan "it was discovered that Nero's injury was far more severe than first thought".
He added: "Nero's future health and well-being are paramount so, after close consultation with the specialists, the decision has been made to retire the German Shepherd."
The spokesman added: "This is devastating news to his handler PC Clive Warncken but he has decided to keep Nero on as a much-loved pet.
"He will continue to give him a great quality of life, which is all we could ask for given that Nero has given his very best efforts to the unit during his six years' service.
Nero was with PC Warncken when the accident happened in the early hours of 21 July.
He had been called in to track four people suspected of assaulting a woman.
His handler had been unaware of the size of the drop behind the railings Nero jumped over.