Coach driver killed three after hitting car on M1 hard shoulder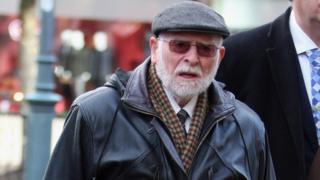 A coach driver killed three men and injured a fourth after ploughing into the back of a stationary car, a court has heard.
Alan Peters, 78, from Gravesend, was driving a bus which crashed into the Audi on the M1 motorway near Flitwick, Bedfordshire.
The car had parked on the hard shoulder with its hazard lights flashing.
At Luton Crown Court, Mr Peters denied causing death by dangerous driving but has pleaded guilty to careless driving.
The car's driver Allan Evans 59, from Islington in London, and back seat passengers, Nathan Reeves, 23, and Tom Aldridge, 20, both from Newport Pagnell, Buckinghamshire, all died.
Jake Dorling suffered a fractured skull, hips and four broken ribs.
Mr Evans had stopped on the hard shoulder to top his engine up with oil.
He was getting back into the car when the double-decker struck the Audi at about 06:40 GMT on 14 February 2015.
It was dark at the time and the court was told the hard shoulder between junctions 10 and 13 was sometimes used as an additional inside lane.
Prosecutor Peter Shaw said the coach hit the car at about 61mph (98km).
Highways Agency signs denoted the hard shoulder "was designated for emergency use only".
"There was ample opportunity for the defendant to have heeded those warnings." Mr Shaw said.
"He failed to react to the stationary car ahead until the very last, with evidence of him applying his brakes 0.4 seconds before impact."
When questioned, Mr Peters, of Ambleside Valley Drive, said he thought the hard shoulder was open to all traffic at the time.
He said he had not seen any hazard warning lights.
The case is continuing.