Final £200k needed to keep Lenborough Anglo Saxon coin hoard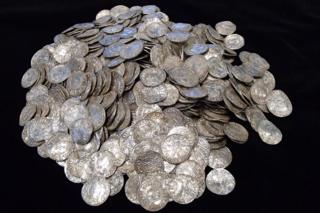 A final £200,000 is needed to keep a hoard of Anglo Saxon coins together.
More than 5,000 coins, valued at £1.35m, were found in Buckinghamshire in 2014.
Buckinghamshire County Museum has been given £1.27m in grants but fears the shortfall could mean it is unable to purchase the whole collection.
If the money is not raised by the end of January, any remaining coins could be given to the landowner and finder to sell on the open market.
Keeper of archaeology at the museum Brett Thorn said such an outcome would be a blow to "research potential".
"Scientific and statistical evidence will be lost if the hoard is not kept together," he added.
The 5,248 coins, which were found buried in Lenborough, near Padbury, came from 40 different mints around England and depict the heads of King Ethelred the Unready and King Canute.
The Treasure Valuation Committee ruled on their worth in June, with "reward money" from their sale to be paid to the landowner and finder, metal detectorist Paul Coleman.
The museum has been awarded £1m from the National Heritage Memorial Fund, £250,000 from the Art Fund and £20,000 from the Headley Trust to help buy the collection.
Museum director Richard de Peyer said the money had bought the purchase "within striking distance".
"The funding pledges we have had make this a story that the museum can now tell with conviction," he said.
If raised, the remaining money will go towards displaying the collection in a new gallery dedicated to the Saxon period in Buckinghamshire.
If not the museum can still buy the number of coins they can afford but any that remain could go to Mr Coleman to sell.