Luton couple arrested over suspected Syria trip plans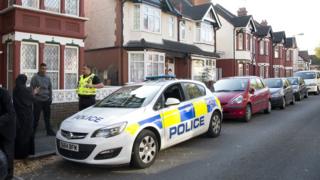 A man and a woman have been arrested by counter-terrorism police on suspicion of planning to travel to Syria.
The pair, who are both 35 and live in Luton, were arrested at Luton Airport on Wednesday. Police said the arrests "related to suspected travel to Syria".
Neighbours of the couple, who live with their children in Luton, described them as "very quiet".
A Met Police spokesman said the man remained in custody and the woman had been bailed.
They were detained on suspicion of "the preparation of terrorist acts contrary to section 5 of the terrorism act 2005", the force said.
One neighbour said the family was from Bangladesh and had moved to the street "about two years ago".
"They are very quiet and don't get involved with other people," she said.
Another neighbour remarked: "They are a very nice friendly family. I do not know what this is all about. The police are outside but are keeping us in the dark."
The pair's house has been searched by officers.