Luton body in bin: Woman found dead had just given birth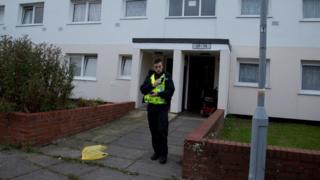 A woman, whose death has been linked to the discovery of a body in a bin in the same street, had recently given birth it has been revealed by police.
A double murder investigation was launched on Wednesday after the bodies were discovered in Essex Close, Luton.
Bedfordshire Police believe the man found dead in the bin on Monday is connected to the death of a woman found at a property on 10 October.
A man has been arrested on suspicion of both murders.
It is thought the dead man and woman were partners.
The woman's baby is being cared for.
Police have until Friday morning to continue holding the man who has been arrested before charging him or releasing him.
Det Insp Fraser Wylie said: "I believe I am not looking for anyone else as part of the investigation."
He said he was still "missing some parts of the jigsaw" and appealed for the public's help and wanted to hear from anyone who knew the occupants of the flat
A forensic examination was still going on at the flat.
The man's body was discovered in a wheelie bin on Monday night outside the entrance to the flats.
It had been wrapped in cling film and a purple duvet cover.