Watford train crash: Driver 'sent out emergency warning'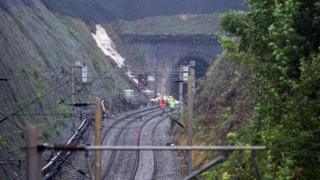 A train that crashed with another service was able to cut its speed by more than half before the impact after receiving an emergency warning.
The 06:19 BST from Milton Keynes derailed near Watford on 16 September and was then hit by another train.
The Rail Accident Investigation Branch (RAIB) said the second train slowed from 80mph (129km/h) to 32mph (51km/h) after the first driver raised an alarm.
Two people were treated for minor injuries following the crash.
The southbound train was travelling at about 70mph (112 km/h) towards Euston when the leading carriage was derailed by a landslip, the RAIB said as it announced details of an investigation into the crash.
About two minutes later, at around 07:00, it was "struck a glancing blow" by a northbound passenger train that was forced to stop but did not derail.
The RAIB said the driver of the southbound train used his in-cab radio to alert other train drivers.
The driver of the northbound train received the emergency stop message and applied the brake, slowing the train significantly before the collision near the mouth of the Watford tunnel.
Both trains sustained "significant damage".
Hertfordshire Fire Service said officers who helped evacuate passengers counted 384 people on board the two trains.
The RAIB investigation will question why the landslip occurred and will look at issues "affecting the stability of the cutting slope".
"The landslip material which caused the derailment had slid from the steep-sided, deep cutting on the tunnel approach after very heavy rainfall in the two hours immediately before the accident," the bureau said.
"The sides of this cutting were being strengthened at the time of the accident, but this work had not yet reached the location where the landslip occurred," the bureau added.